Celebrate how and where you want – with our experienced team, we take care of everything, so you can relax and enjoy your occasion. Thanks to our professional service you can simply enjoy the celebrations. We cater for your family celebrations, business lunches and dinners or meetings for up to 80 guests in a stylish setting and we create a pleasant atmosphere. Take advantage of our experience and our professionalism. We are the right partner for celebrations of any kind and size, at our premises or a location of your choice.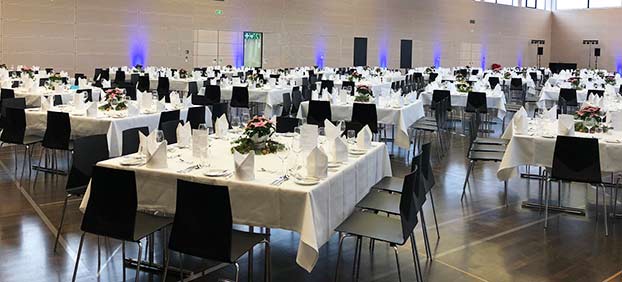 Weddings
The wedding – one of the most beautiful moments in life – no matter whether in our Rößle, in the "Albgut" in Münsingen or a location of your choice. We make this day an unforgettable experience. Enjoy the best day of your life with exclusive, first-class service, culinary highlights and much more.
To give you planning security, we have put together our wedding packages as solid packages. Together with you we support you to realize your individual wishes.
Birthdays / Christening / Confirmation and Family celebrations
Are you planning a birthday party, a christening, a confirmation or a family celebration? – Here at the Rößle you are exactly right. Our conservatory, which provides space for approx. 80 people and, in combination with our terrace / lounge, offers a stylish ambience for every occasion.
Company celebration / company anniversary
Our catering team manages banquets and buffets for up to 2500 people – and according to your culinary wishes. Just come with your ideas and concepts to us, we implement them for you and give you competent advice in your choices. We take care of everything you entrust us with: we supply the finest, freshly prepared food, the appropriate drinks and table
Just come to us with your ideas, we will implement them for you and competently advise you in your decisions. We take care of everything with which you assign us: We deliver the finest, freshly prepared meals, suitable beverages and table decoration up to the complete kitchen equipment for the on-site cooking as well as friendly and experienced specialized personnel. We are all looking forward to your inquiry.